Black History Month: Meet Samuel Cole
Born around 1900, Samuel Cole grew up in the Steelton Borough. He attended the Hygienic School for Colored Children located in the borough, followed by a post-graduate tenure at Shippensburg State Teachers College.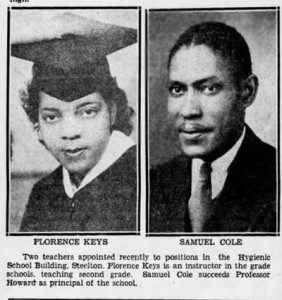 After graduating from college, Mr. Cole worked as a substitute teacher and eventually became a full time teacher at the Hygienic School in 1935. Showing that he was a dynamic teacher he became Principal in 1936 in the same year that he attended the University of Pennsylvania furthering his education. Principal Cole, having his Bachelor of Science degree continued in this position for 23 years, until the Hygienic School was closed. After the closure of the Hygienic School, Mr. Cole became a math teacher at the Steelton Elementary School at Fourth and Walnut Streets and taught math and English at the high school.
Samuel Cole was very involved in committees that would make a difference in the lives of the public other than through education. He was actively involved on the Steelton Planning Board and the Dauphin County Child Care Service Advisory Board. This Omega Psi Phi Fraternity member also was on the Harrisburg Area Board of Development and a member of the Dauphin County Redevelopment Authority. Mr. Cole's contributions were noted by the Authority making it possible for the Cole Crest Housing Development to be named after him.
This large but gentle man kept a smile on his face while making sure that the students in his charge worked to become their best. Samuel Cole died in June of 1990.
Written by: Barbara Barksdale